NYC Indymedia Journalist Killed; Protests Scheduled; Updates From Oaxaca
Friday, October 27 2006 @ 08:49 PM CDT
Contributed by: Anonymous
Views: 7,107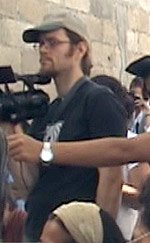 On Friday, New York City Indmedia journalist Bradley Will was killed by paramilitary forces in in Oaxaca, Mexico as he filmed a demonstration. Later in the day a local teacher was also killed. Both of these deaths are part of ongoing government repression against teachers and residents of in Oaxaca, Mexico.
Will's death has sparked an international outpuring of grief and outrage. Protests are being planned this week at Mexican embassies and consulates.
Meanwhile, there are reports that the Mexican government is sending in more forces to clamp down on dissent in in Oaxaca.
Scheduled Protests
New York City: Nov. 1: Wednesday Bike Ride for Oaxaca! 1pm, 40th St & West Side Highway (12th Ave)

Atlanta: Oct. 30: 5 pm. CNN Center.

Austin: PROTEST MONDAY 11am AT THE MEXICAN CONSULATE (800 Brazos St).

Chicago: On Monday October 30, 2006 at 4:30 pm there will be a vigil/celebration in memory of Brad Will outside of the Mexican Consulate. 204 S. Ashland Ave. Chicago, Illinois, 60607

Houston: Oct. 30. 8 am. Consulate of Mexico (4507 San Jacinto St.)

Kansas City: Oct. 30: 50 people held a candlelight vigil outside the Mexican Consulate.

Los Angeles: Oct. 29: 4pm. Protest at Mexican Consulate 6th and Parkview in MacAuthur Park

Philadelphia: Oct. 30: 9 am. Mexican Consulate, 111 S. Independence Mall E, Suite 310, Bourse Building (21 S 5th St)

Providence: Oct 30th at NOON at the Federal Building, Kennedy Plaza

San Diego: Oct. 30: 7am Protest at Mexican Consulate (1549 India St Little Italy)

San Francisco: Oct. 30: 4pm Protest at Mexican Consulate (532 Folsom St.) People will also reportedly come together again for an emergency demo at the Mexican Consulate in SF on Tuesday, October 31st at 5pm.

Seattle: Oct. 30: 6pm Protest at Mexican Consulate ( 2132 Third Ave)

Tucson: 4pm Protest at Mexican Consulate (553 S. Stone Ave. and 17th St)

Washington, DC: Oct. 30: Demonstration at the Mexican Embassy, 5 pm, 1911 Pennsylvania Avenue, NW

Worcester: Oct. 30. Noon. City Hall
Remembrances and Statements
Breaking News from Oacaca
NYC INDYMEDIA JOURNALIST BRADLEY WILL KILLED IN OAXACA
Shootout in Oaxaca; 3 Killed
From Nancie Davies in Oaxaca:
What I have heard up to 8:00 PM from Radio Planton
man abducted by police at noon in Cinco Señores, taken to prison in Tlocolula
student shot in arm on barricade
three dead:
teacher
indymedia reporter, from USA, shot dead, confirmed
photographer from Milenio - ?
23 wounded at San Bartolo Coyotepec, and 3 dead, who I think are those named above. (Also several wounded by sticks and rocks)
all shot by ministerial police or others in service of government
a call is out for flashlights, drinking water, food, reinforcements.
from NYC Indymedia
NYC Indymedia journalist Brad Will shot dead by government forces in Oaxaca
confirmed by La Jornada(Mexico) and Radio APPO Oaxaca, NYC indymedia journalist shot in chest today
Oct. 27th: A shooting occurred today in Oaxaca City, Mexico, leaving New York City Indymedia journalist Bradley Will dead after being shot in the chest. He died before reaching the hospital, according to La Jornada. A photographer from the newspaper Milenio Diario, who was at Will's side, was shot in the foot and reported injured, his status unknown.
Radio APPO [mp3 audio], the radio of the Popular Assembly of the Oaxacan People, is reporting truckloads of armed paramilitaries entering the city. They are calling for people to reinforce the thousands of barricades that have been constructed for months as part of the statewide teachers' strike and popular uprising that has demanded the removal of PRI governor Ulisis Ortiz Ruiz.
Reports en español: 1 | 2 | English: 1 |
www.vientos.info/cml www.lajornada.com
Article from La Jornada:
Matan a documentalista de EU en Oaxaca; un fotógrafo herido
La Jornada On Line - 27/10/2006 18:38
Oaxaca, Oax. Una balacera ocurrida en el municipio de Calicante causó la muerte del documentalista estadunidense Brat Will, de Indimedia Washington, quien recibió un balazo en el pecho. A su vez, un fotógrafo del periódico Milenio Diario, Oswaldo Ramrez, resultó herido con un disparo en el pie, informó la edición Web del periódico. El enfrentamiento ocurrió cuando grupos de supuestos guardias blancas, según reportó Radio Fórmula, agredieron a los brigadistas que resguardan las barricadas.
El dirigente de la APPO, Flavio Sosa, pidió la urgente intervención del gobierno federal en ese municipio, porque dijo que grupos al servicio del alcalde prista están amedrentando con armas de guego a los brigadistas que resguardan las barricacas. Nosotros sólo tenemos piedras y ellos armas de fuego", dijo.
De acuerdo a las primeras informaciones, en Calicante se registró una balacera y aparte del periodistas muerto y el fotógrafo herido, tres personas más resultaron heridas. El reportero fue herido en el estómago, y falleció antes de llegar a un hospital.
Tanto en Calicante como en el municipio de San Antonio, ambos conurbados a la capital, priva un ambiente de tensión, debido a que en ambos grupos de appistas que resguardan las barricadas y de supuestos guardias blancas se encuentran separados por un centenar de metros y se corre el riesgo de un enfrentamiento mayor. Los brigadistas se mantienen agazapados tras las barricadas y de acuerdo con la información, uno de ellos se encuentra herido sin posibilidad de ser trasladado a un centro de atención.